Playhouse Productions

Playhouse Productions is a first class, in-home recording facility located in beautiful Brentwood, TN, 20 minutes south of downtown Nashville. The studio was designed by Larry and (son) Chris Wright and constructed by Larry, especially with 4-part vocal groups in mind. Larry's 45 years of experience in a cappella singing and Chris' keen ear, artistic sense, and knowledge of recording equipment give both of them "a leg up" in creating a relaxed but highly productive recording environment for singers,.... especially barbershop quartets. Knowing that the best way most quartets like to sing, in a recording environment, is facing each other, Larry designed and constructed his one-of-a-kind "quad-Isolation booths."
These booths are unique in that all 4 singers stand in a tight square, facing each other, but each vocalist is in his/her own, completely isolated, air conditioned vocal booth. And yet, all 4 singers are within just a few feet of each other, with each singer being able to see all three other singers through the large glass windows. Many top-of-the-line recording studios around the country have multiple isolation booths, but to Larry's knowledge, NONE have this unique configuration especially designed to accommodate 4-part vocal groups... and barbershop quartets!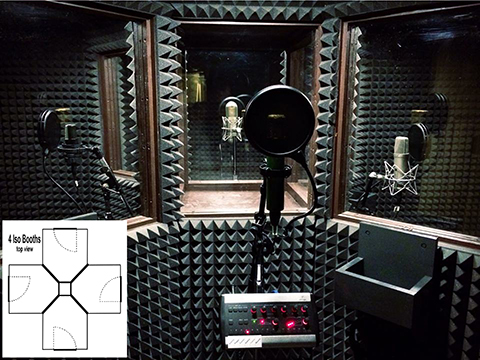 The reasons for separating (and isolating all the vocal parts are several,.. and at least a few are obvious to quartet singers.
When one singer makes a mistake, the entire group doesn't have to re-sing (re-record) that phrase or line. Only the singer making the mistake has to re-record the phrase. This method is a common practice in the recording industry known as "punching in." However, without having all the voices totally isolated, these punch-in's can cause undesirable "phasing" issues in the recorded tracks. Using the "quad Iso booths", ONLY the singer making the mistake has to re-record the vocal line... and NOT the entire group!.... and there are no phasing issues!
A quartet doesn't lose a basically great "take" just because of minor singing errors.
All singers greatly benefit from these individual punch-ins. There is far less vocal fatigue and stress during 3, 4, or more hours of recording.
Here are additional reasons why the "quad Isolation booths" are unique, incredibly useful,...and completely set apart from other isolation booths that are physically, and sight-wise, quite separated from each other.
With relatively new technology, it is now possible to "retune" occasional notes that are sung out of tune. The technology also enables the recording engineer to correct vertical "sync" problems that even the best groups occasionally have. This "retuning" and "re-syncing" happens in the "editing" process, long after the quartet has left the studio. The use of these new editing tools greatly reduces the number of hours a quartet needs to be in the studio recording.
A quartet can now concentrate on getting a great "feel" and "tempo", and "energy level" of a song, and not worry about all the little mistakes, which can ruin a basically good "take."
Also flatting a song from beginning to the end is no longer an issue, using both the "punch-in" technique and retuning software.
The use of these new editing tools has become standard practice in the commercial recording industry. In the hands of an expert audio editor, these tools now make it possible for almost any group to come in the studio, and in a few 4-hour sessions, record a first-class CD with up to 12 songs... in one weekend!
Pricing:
Tracking
Studio rental: $200/per 8 hour day - this is a special low price if clients are also having us edit and mix all songs.
Engineering fee: $200/per 8 hour day - this is special low price if clients are also having us edit and mix all songs.
Studio rental: *$300/per 8 hour day - if clients are only using the studio for recording purposes.
Engineering fee: *$300/per 8 hour day - if clients are only using the studio for recording purposes.
NOTE: The above "studio"/"engineering fee" may be divided into two, 4 hour sessions of back-to-back days. However, sessions split into two 4 hour sessions that are NOT back-to-back days will be charged an additional $25 (per additional session) IF there is "set-up time" involved. The "studio rental" fee is not effected (not increased) by any splitting in the sessions. It is simply split in two,... half the fee each day. Quartets may also choose to only book the studio for a 4 hour (minimum) 3 or 4 song "demo" session. In this case, half of the (above) *$300 fees will apply.
Editing
Tuning and syncing all 4 parts: $100 per song unless over 3 hours of work (per song) is required for the quartet's tastes/needs of editing. Then $20/hour will be charged until editing the individual song is completed. Unfortunately, this process has to be at least semi-open ended.
Mixing
$50 per song - flat fee
The above are the services our studio provides. Mind you, that doesn't mean all these services have to be purchased from "us" in order for a quartet to make a record... or short promo demo. A quartet can choose not to be edited/tuned and save money there. They can also just hire the engineer and rent our studio to track if they'd like someone else to mix it. And of course, if they like the way we mix, they can always track the songs somewhere else and send the raw files to us to mix. The main thing is that none of these services are part of a package deal. Our clients can pick and choose what they want us to do. Of course, we're always happy to provide everything,... start-to-finish.
Mastering
We always suggest quartets get their full album CD "mastered." Demos aren't as critical,... so, for this latter type of product, this step may be skipped to save on cost. We have an aray of mastering "tools" in our studio to do "mastering", however Mastering Engineers dedicated strictly to "mastering" always have a more extensive aray of tools,... and thus will simply do a better job. Mastering not only levels out a record volume-wise, but can make the album sound good on just about any sound system that it's played on. Top Mastering Engineers in Nashville are known for making mixes sound more polished.
Mastering companies for major artists will charge $20,000 for a 12 song record.
Some companies will do the same for $3000
Some for $1,700
And so on and so forth...
A good friend of mine is a mastering engineer who does very good work and charges only $80 per song. That's still a bit over $1000 for a 12 song album. I would call that very reasonable considering the company many of my high-end clients opt to use charges $200 per song.