Love Song Collection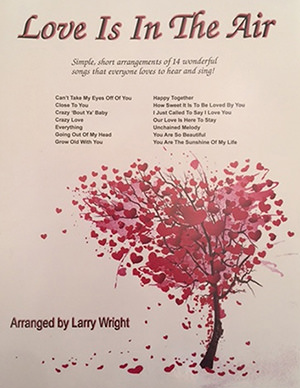 Check out this brand new 14-song book collection of great "love" songs especially arranged for men and women and available with excellent part-predominant vocal learning trax! These are custom, short (most 2 minutes or less) arrangements of "love" songs perfect for "Valentine's Day-Grams" (or any time of year!!) arranged especially for "C+" level (and up) quartets.
Buy Now
Audio Demo
Here's a list of the 14 songs.
How Sweet It Is To Be Loved By You (recorded by James Taylor and others)
Our Love Is Here To Stay (recorded by Frank Sinatra and others)
So Happy Together (recorded by the Turtles)
Crazy Love (recorded by Michael Buble' and others)
Close to You (recorded by the Carpenters)
You Are the Sunshine of My Life (recorded by Stevie Wonder)
Going Out Of My Head (recorded by The 5th Dimension, The Lettermen and many others)
Crazy 'Bout Ya Baby (recorded by the The Plaids)
Grow Old With You (recorded by Adam Sandler)
I Just Called To Say I Love You (recorded by Stevie Wonder)
You Are So Beautiful (recorded by Ray Charles, Joe Cocker, and others)
Can't Take My Eyes Off Of You (recorded by Frankie Valli and others)
Unchained Melody (recorded by Elvis Presley and others)
Everything (recorded by Michael Buble' and others)
There are 2 arrangement versions for each of the 14 songs. The first version has a specially composed zippy "Valentine Intro" opener and "Valentine Tag" closer ("bookends"), perfect for Valentine's Day "live" 'Singing Valentine' performances. The second arranged version does not have the "Valentine Intro/Tag" opener/closer and can be sung any time of the year, for any occasion (chapter shows and afterglows, guest nights, restaurants or public places... when appropriate... or whenever a short rendition of a well-known love song is called for).