Chris Wright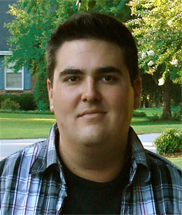 Growing up, Chris was exposed to exactly the same barbershop "atmosphere" as his sister Ashley. He also, consequently, developed a great "ear" for woodshedding harmonies and singing in tune. Before the family moved from Los Angeles to Nashville, Chris became a member of the very young (average age was 22) Westminster Chorus, singing Lead and winning Silver in 2006, and finally getting his gold in 2007.
At the same time he was barbershopping, he was also heavily into playing drums, recording in Dad's home studio, and had also picked up the acoustic guitar. Since moving to Nashville, he has extensively increased his knowledge of studio engineering, editing, mixing, producing, and has become an excellent studio and gigging drummer/percussion player and pretty decent guitar and bass player as well. In 4 short years, he already has a small "wall" of albums that he's either fully produced, engineered, edited, or played drums, percussion, guitar, or sang on. He's also blossomed as a singer/songwriter. With his instrumental and vocal ability, technical studio knowledge, and contacts, he's one of a small percentage of Nashville musicians making a good living in the music business.
Because of this, he's been able to add some very nice pieces of "pro" music gear to Dad's already "pro" home recording studio. It's resulted in a "win-win" situation for them both. When Chris isn't busy either gigging in town or on the road (in one of the 3 bands he plays with),... or working on a album project in the studio, he helps Dad out with recording vocals and editing vocal tracks.