Ashley Wright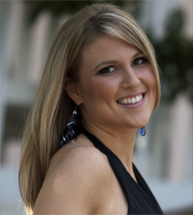 Ashley has literally grown up in barbershop, watching her Dad sing in the 139th Street Quartet, and later, listening to Dad recording male and female learning trax in Southern California. She subconsciously developed a great ear for harmony and singing in tune (as Dad would re-record a phrase until it was in tune). At the age of 9, she became a member of her Dad's sweet adeline chorus, singing tenor. By the age of 16, she was singing female learning trax (upper 3 parts) for Dad. At 18, she was singing Lead in a young women in Harmony quartet "Sweet Synergy", placing 4th in the YWIH International Competition. At 19, she was the principle soprano and soloist in the "South Bay Christian Choir." Since moving to the Nashville area (Brentwood) with the family, she flies monthly to North Carolina to sing Lead in her newest quartet, "Speed Of Sound."

With almost 10 years of experience in recording women's learning trax, she's very quick (being an excellent sight reader) without giving up quality and, with her great range, sings all 4 parts! Her tremendous style and great interpretation brings an added dimension and benefit to the quality of the learning trax. In Dad's humble opinion (ha!), she's THE best female out there presently recording vocal learning trax. She can "do it all" and her excellent recordings attest to that.
Visit Ashley's website at www.ashleywright.com.